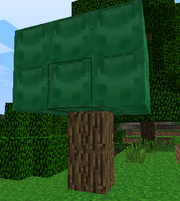 'The Apricorn tree is a new addition to PokeMobs v0.4, from this tree you can harvest and collect Apricorn which are needed to create' Poké Balls. These Appricorns come in four different colors: Red, Blue, Yellow, and Purple. To learn how to use Appricorns to make Pokeballs' click here ---> How to create a pokeball Currently, it is impossible to get apricorn saplings out of Apricorn trees, but a future update will make it possible to do so.
Ad blocker interference detected!
Wikia is a free-to-use site that makes money from advertising. We have a modified experience for viewers using ad blockers

Wikia is not accessible if you've made further modifications. Remove the custom ad blocker rule(s) and the page will load as expected.