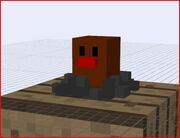 This Pokemon may be added to the v0.3 update! Diglet is a ground-type pokemon, and evolves into Dugtrio at level 26. This pokemon is buried underground, with only it's head visible. pokedex entry:
Diglett, the mole pokemon. The movement of these ground Pokémon can be easily detected by their tracks of upturned earth.
Models
Ad blocker interference detected!
Wikia is a free-to-use site that makes money from advertising. We have a modified experience for viewers using ad blockers

Wikia is not accessible if you've made further modifications. Remove the custom ad blocker rule(s) and the page will load as expected.