Not released yet! This model has been confirmed for the mod.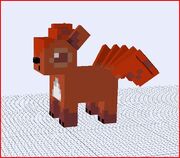 Vulpix is a fire type pokemon, and evolves into Ninetails when exposed to a fire stone. It can use Flash Fire, and it's hidden ability is Drought.
Vulpix looks like a small fox. It has a red-brown pelt, eyes without pupils, and orange tails, counted at six. It has (what looks simular to) orange bangs. At birth it has only one tail, which splits into nine as it grows older.

Make your Vulpix models look like the one above.
Models
Ad blocker interference detected!
Wikia is a free-to-use site that makes money from advertising. We have a modified experience for viewers using ad blockers

Wikia is not accessible if you've made further modifications. Remove the custom ad blocker rule(s) and the page will load as expected.